et al. / QUINTO SESTO / THE INSTITUTE OF SOCIAL HYPOCRISY
MOVING FORWARD TO THE END 2 – 10/6/2012
Social Solidarity #4: Non-Existent in the Everyday World?
(kwila, angaline steel, digital print).
---
Curated by Iakovos Amperidis.
---
55 Sydenham Rd Marrickville, NSW 2204, AU. 55 Sydenham is situated at a commercial property once occupied by an undercover KGB unit between 1983-1990. The late Dr Jim Cairns (former Deputy Prime Minister for the Whitlam Government) was reported to be the owner of the estate during this period. It was later revealed that a team of scientists conducted intensive research on the psychokinetic powers of Nina Kulagina (1926-1990).
---
In correspondence with the building's alleged host, 55 acts as a portal of autonomy from commercial / institutional coercion and co-option, providing running room for artists to meddle with the unorthodox in non-specific media. It is committed to showcasing new work and/or work that has never been shown in Sydney, and in exhibiting artists that have peripheral sensibilities – ideologies and processes that are unconventional, complex and disjointed.
---
Founded and directed by Iakovos Amperidis, the space opened on April 7th 2011.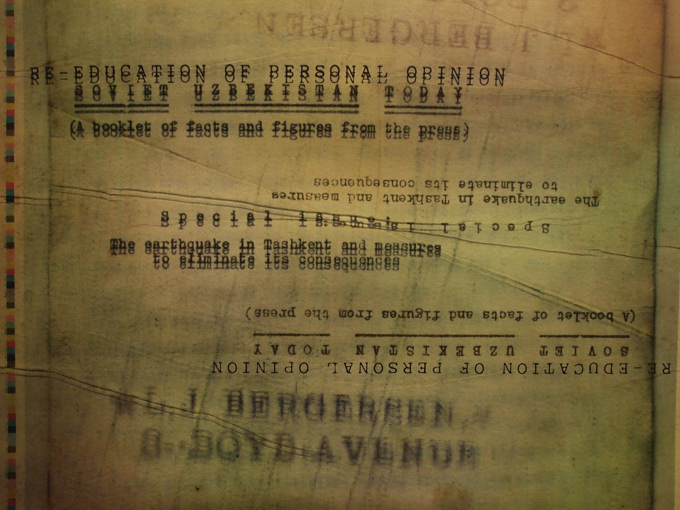 There's no longer any trepidation in having a crackpot fatalistic worldview. The 21st century marks the acceleration of an unprecedented systemic meltdown.

---
Moving forward we are, but there's no afterlife in the ether, the promised land is here and it's floundering. To deflect the real, we coil ourselves up in all manner of distraction, automatons in a technophoric la-la land, engineers of an epidemic implosion.
Our grandest collective fetish resides in our institutions, where we endlessly expend our energy to reform, reconfigure and convolute their governance upon us.

---
We seek solace in dressing up their edifices, both architectural and ideological, seduced into their diabolically ornate systems. They are prisms of our ideals, adorned and worshipped for their immortal promise. With good faith in human progress, we soldier on in the abstraction of human life. Equipped with hi-end bureaucratic artillery, institutions are our death-drive made legal.

---
In the visual arts, the field is similarly unwell. For a while it seemed the emergence of ʻinstitutional critique' would heal the [art] world with regulated doses of self-reflexivity. This oxymoronic revolt may still throw all manner of spanners into the works, but to no avail. There's just no helping it. Institutions are too far gone.

---
Moving Forward to the End is an exhibition showcasing the logical progression of institutional critique – enter the ʻinstitutionally dismal'. The artists/collectives in this show embody and assume the redundancy of our pathological enterprises. Unlike their not too distant relatives, they are not out to fix things. In them we see no exit, they are the failed human project; the institutionalized, the hypocritical and the enemy of the state.

---
Curated by Iakovos Amperidis